Best Free Trial Cell Spy With Ota Instal
Spy On Any Android Phone (100% FREE) SpyZee is one of the best mobile spy apps. If you want to spy on someone, you can use this app. The best quality of this app is that it is free to use. It is a free mobile spy app. You don't need to add your card details or subscribe to a payment plan to use this app. Apr 23, 2020 Install the Neatspy app. Begin to track the target phone. Get a Free Neatspy account. Go to the Neatspy signup page and provide the needed credentials. Download Free Spyware Without Touching Target Phone. After purchasing, it will lead you to the Wizard to finish the installation.
New technology is making it easier than ever before to spy on a cell phone without having it. Spying software worthy of the CIA is now making its way into the hands of ordinary people. For as little as $29 virtually anyone can buy an app that will enable them to spy on a cell phone without having that phone anywhere near them.
These apps can collect text messages, phone calls, GPS location, social media activity and much more without ever being noticed by anyone.
Hi! I'm Pat Stanley and this is Best Cell Phone Spy Apps. I am going to show you how to get everything I mentioned above without having their phone in your possession and remain undetected while doing it.
I have reviewed the best phone spy apps for 2021 and have listed them below. I ranked them according to; ease of use, secrecy, reliability, how much information they gather and overall power. Take a few minutes to read them and choose the one that is best for you.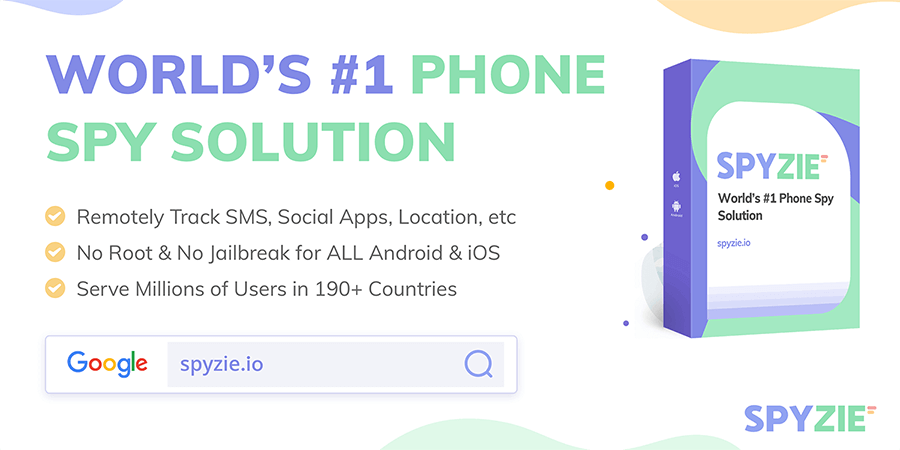 #1 Auto Forward Spy
Recommended – The best spy app without having phone. Works on all Androids and iPhones
Auto Forward enables you to monitor the activities of any cell phone without having the phone and without being detected. It is great for beginners and all those with limited knowledge of cell phones and technical jargon.
Spy on a Phone Without Having Access to it
Auto Forward Spy is the only app that uses its exclusive OTA (over-the-air) link that allows for a simple download and remote connection with the target phone. All you have to do is download the app, activate it, then enter the number of the phone you want to spy on. It's very easy to use and perfect for anyone looking to do a bit of surveillance. If you can use a cell phone, you can use Auto Forward.
Boasting more than a half-a-million downloads in their eight years on the market, Auto Forward is certainly considered a market leader and a pioneer in the cell phone monitoring industry. They continually introduce new features keeping their app ahead of the competition. Auto Forward has everything a person would need in a cell phone spy app. Auto Forward Spy works with all iPhones and all Android phones and tablets.
How it Works
Auto Forward Spy works by establishing a remote connection over the internet with the target phone (the phone that is being spied on).
Three Easy Steps:
Download – Use the OTA (over-the-air) link to download the app.
Activate – Enter the license you get from Auto Forward to activate.
Monitor – From your cell phone, tablet or computer view texts, calls, GPS and all available information from the target
Features
OTA Link:

The OTA (over-the-air) link allows remote access to the monitored phone after download.

Undetectable: The app is undetectable on the target phone. Activity is captured and uploaded silently.
Social media:

Auto Forward tracks and records activity on Facebook, Instagram, Snapchat, and more.

Text messages:

See an exact copy of every text sent and received from the monitored phone. This includes instant messaging apps like Messenger, WhatsApp, and Kik.

Keylogger:

Captures all keystrokes on device including, messages, searches, notes and more.

GPS tracking:

Tracks the GPS location of a device to within a few feet of its actual location.

Remote listening: Activate the phones microphone to listen to surroundings.
Stealth camera: Send a remote command to the phone to snap a picture.
Price:

Only $29.99 and there's no monthly subscription.

Works with: All Android's and iPhone's
Auto Forward allows you to spy on a phone without them knowing and does not require you to have possession of the target phone to see its information. The app will remotely extract information from the target phone and send it to your secure online account. You can login to see uploaded data from your phone, tablet or computer. You can get Auto Forward setup and sending activity from the target phone in less than 45 seconds!
Packed with every feature you will need, plus a one-time fee of only $29.99 and no monthly subscription, it's not a stretch to say that Auto Forward deserves the #1 spot on our list of the best phone spy apps of 2021.
To buy Auto Forward CLICK HERE
#2 Highster Mobile
Recommended for spying on an iPhone. No possession needed.
Highster Mobile has been on the market since 2007. It maintains a high standard of excellence and reputation as being a great app to gather information from any iPhone or Android phone. While Highster Mobile works very well for spying on Android's it is much better and is my recommendation for spying on any iPhone.
Spy On An iPhone Without Having Possession
Highster Mobile is the only monitoring app and system that gives you the choice of using the iCloud account of the iPhone to gather information (which can be very unreliable), or using a remote access app.
The remote access app is by far more reliable and more accurate. It is also much faster at accessing and displaying data from the monitored phone. When using the iCloud account, it can take up to 24 hours, if not longer for data to appear. When using the remote access app, data is available almost immediately. You will also have access to more information form the phone.
Highster Mobile comes with both options so you can choose which one will work best for you. Neither choice requires access to the phone.
How it works
The app secretly establishes a connection between the target phone and the Highster Mobile servers. Data begins to upload immediately following the connection and is uploaded every few minutes.
Three Easy Steps:
Download – Use the OTA (over-the-air) link to download the app.
Activate – Enter the license you get to activate.
Monitor – From your cell phone, tablet or computer view texts, calls, GPS and all available information from the target
Features
OTA Link:

The OTA (over-the-air) link allows remote access to the monitored phone after download.

Social media: C

aptures and records copies of both incoming and outgoing messages for Facebook, Instagram, and Snapchat.

Text messages:

See all texts to and from the phone.

Keylogger:

All keystrokes performed are logged and uploaded. Captures and logs deleted content and keystrokes.

GPS tracking:

Enhanced GPS tracking now tracks a phone to within just a few feet of its actual location.

Undetectable: The app is undetectable on the target phone. Activity is captured and uploaded silently.
Works with: All Android's and iPhone's
Highster Mobile's features and customer support are the reasons why we ranked this product, created by Powerline Group Inc., as one of the best cell phone spy apps of 2021.
To buy Highster Mobile CLICK HERE
#3 PhoneSpector
(Modern Spy App For Android and iPhone)
PhoneSpector LLC, the U.S.-based company behind the PhoneSpector mobile monitoring app, boasts more than 500,000 users of their cell phone tracking and spy software and says they're on track to hit one million users in the next two years. Very impressive!
It was easy to see why they're so confident once we tested the app for iPhone and Android. All you need to do is install the app on your phone, then activate it with the license key given to you at the time of purchase. The whole process took us less than 45 seconds, easily the fastest of any spy app we tested.
This app is a great choice for anyone needing to spy on a cell phone. It has a lot of great features plus excellent customer support. PhoneSpector was the only company that has live operators ready to answer calls. It's an exceptional product backed by excellent customer support, and you can't go wrong with this mobile monitoring app.
Developer: PhoneSpector LLC.
To buy PhoneSpector CLICK HERE
#4 DDI Utilities
(A powerful utility program that can dig up and extract data that other spy apps cannot. Perfect for those tough jobs.)
DDI Utilities is part of the emerging new technology of utility programs that enable a person to spy on any cell phone without having it while remaining undetected better and easier than ever before. This revolutionary program has changed cell phone monitoring from what we once knew. Gone and obsolete are the older, traditional spy programs which are being replaced by new, more powerful utility programs.
Utility programs are used to dig deep into the file structure of a PC or Mac to extract data and arrange files to optimize performance. Utility programs for cell phone's and mobile devices operate in the same way, except we can use them for many others things. Like getting data that we want to see from a cell phone!
DDI is perfect for extracting data from any mobile device. It will work on all iPhones and all Android devices.
How it works:
DDI is downloaded by texting the file link to the phone you want to monitor. When the link is opened (tapped on) it is activated and ready to go. Within minutes contents and activity from the phone will begin to upload to your online account. Login using the user/pass you get from DDI to view everything there is to see.
Key Features:
Text messages – Recover an exact copy of all of the text messages sent and received by the phone
Call log – Recover a list of all of the incoming and outgoing calls listed on the phone with the date, time and duration of the call.
Emails – Recover the content, sender, receiver, time and date of all emails listed on the phone.
GPS – Recover the real-time location of the phone (which is very useful to recover the phone if it has been lost or stolen)
Photos & Videos – Recover all media both taken on and received by the phone.
Stealth Camera – Take pictures of the phone's surroundings.
Web Browser – Recover all the websites visited and all the terms searched.
Social Media – Recover all messages and activity from popular social media apps like Facebook, Twitter, Instagram, SnapChat, etc.
Diagnostics – Recover information such as the battery life, Wi-Fi and Bluetooth connection, etc.
Developer: DDI Data Services
To buy DDI Utilities CLICK HERE
#5 Easy Spy
(VERY Easy To Use! An Extremely Capable Yet Inexpensive Spy App.)
You can easily monitor the use of a cell phone or tablet with Easy Spy. Easy Spy allows you to view the target cell phone's text messages, phone calls,Facebook messages, internet browsing history, emails, social media, and other functions. It can also show deleted texts and track the phone's location using GPS data. All of the phone's information will be uploaded to the customer's account online so they can remotely review it without the risk of being detected. Best of all, this cell phone monitoring software features a remote uninstall function that will quickly initiate should the owner of the phone suspect they're being monitored. This product is not able to record and listen in on phone calls, and tell you the Wi-Fi network the device is connected to.
Easy Spy is especially great to use whenkeeping tabs on children and employees. There are plenty of cell phone spy apps on the market like Easy Spy, but this one has the most functionality at a better price. To get started with Easy Spy, know that there is a one-time fee of $69.99. Also, this software by ILF Mobile Apps Corp. features free lifetime upgrades and is backed by a ten-day money-back warranty.
To buy Easy Spy now CLICK HERE
Cell Spy Does It Work
With this type of spy software, you'll need an easy-to-use program that features full telephone support. Skip any company that doesn't include toll-free phone support for its mobile phone spy apps. If you're not able to use the program you paid for, you'll become as frustrated as I did without free phone support.
Another thing that's important to know before using cell phone spy software is that unlike typical apps from Google Play or the Apple App Store, most mobile spy apps like mSpy, Flexispy, Spyzie and others, require you to have more knowledge of how apps and cell phones work. They're not for tech newbies: Even I experienced some amount of frustration when I used their software.
You won't waste your time or money with the spy apps for iPhone and Android I've listed below. I've tested each of them myself to be sure that they are what I believe to be the best spy apps on the Internet.
FAQS About Spy Apps
Yes, spy apps really do work. When installed properly, they can retrieve the target phone's photos, videos, texts, call log, and other data and upload it to your spy app dashboard. However, when looking for a spy app to purchase, make sure it is compatible with your device as well as the device you want to monitor. If it isn't compatible, it will not work the way it should.
Splinter Cell Spy
There aren't any free spy apps and if there are some that claim to be, you should avoid them altogether. The best cell phone spy apps on the market (from our experience) require some monthly or one-time fees.
From reviewing and testing out multiple phone spy apps, we recommend Highster Mobile and Auto Forward. They all have similar features that enable a person to monitor another device easily and effectively at an affordable price.
Best Free Trial Cell Spy With Ota Installer
When using an Android spy app, users are able to view the target phone data remotely from their own cell phone, tablet, or computer. However, installation of an Android spy app cannot be done without having physical access to the target Android device. Installation typically takes less than a minute.
Using an iPhone spy app, you can easily monitor an iPhone that belongs to your child or an employee (with permission and if the device is business-owned). Once connected, the iPhone's data will be automatically uploaded to your account dashboard. Installation can also be done remotely, as long as you have the phone owner's Apple ID and password.
From our extensive experience with spy apps, we highly recommend using PhoneSpector when monitoring iPhones. You'll be able to view iMessages, Safari browsers history, GPS location, and much more. Plus, with it's no jailbreak software, you'll be able to install the app without needing physical access to the iPhone or iPad.
Unlike what many companies claim, spy apps are detectable. In fact, in most cases you must inform the phone owner that you are monitoring them, unless of course you're a parent monitoring your child. Also, most spy app icons actually appear on the phone just like any other app would. The software is sometimes visible in the target phone's downloads folder as well.
*DEVICE REQUIREMENTS: Physical access to the target phone is required for approximately 2 minutes. Apple devices must be jailbroken.
It is the responsibility of the end user to comply with all federal and state laws. Spy software will allow you to monitor mobile phones as a tool NOT for illegal purposes. Use at your discretion. It is a federal and state offense to install surveillance software onto a phone which you do not have proper authorization. We absolutely do not condone the use of our software for illegal purposes. The use of the software is done at your own discretion and risk and with agreement that you will be solely responsible for any damage to your mobile or loss of data that results from such activities. No advice or information, whether oral or written, obtained by you from us or from the Easy Spy web site shall create any warranty for the software. In addition, you agree to hold harmless the publisher and authors personally and collectively for any losses of relationships, capital (if any) that may result from the use of this application. Your use of software obtained through or from ILF Mobile Apps Corp. like other software agreements, indicates your acceptance of these disclaimers.
Best Free Trial Cell Spy With Ota Install Free
NOTE: All trademarks on this site are property of their respective owners. These companies are not affiliated with CTS Technolgies Corp. in any way. Mentioned trademarks are used solely for the purpose of describing phone and carrier compatibility for our mobile phone spy software. This site and the products and services offered on this site are not associated, affiliated, endorsed, or sponsored by Apple, RIM, Microsoft, HTC, Samsung, Motorola, LG, Palm Inc., Sanyo, Android, Casio, Nokia, Pantech, or Sony Ericsson, nor have they been reviewed tested or certified by Apple, RIM, Microsoft, HTC, Samsung, Motorola, LG, Palm Inc., Sanyo, Android, Casio, Nokia, Pantech, or Sony Ericsson.